Review: Vortex Pok3r keyboard
Review: Vortex Pok3r keyboard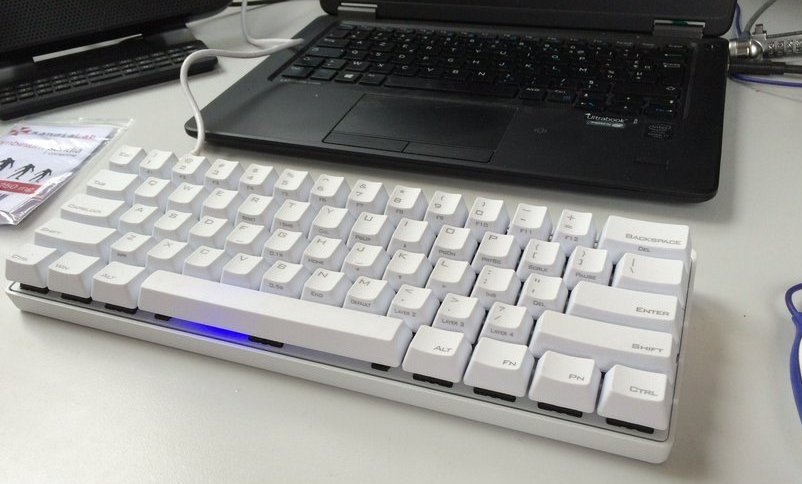 Since I spend my time typing on keyboards, I like having something decent under my fingers. Sadly, most keyboards that ship with computers feel more like a designer's wet dream and a programmer's nightmare than anything else. You get extra-long keyboards, a collection of media keys and unresponsive feel… Luckily, some time in the mid-90s, some manufacturers noticed the problem and started offering better products. There's now a whole market for these keyboards, and thanks in part to a side-effect of the pro gaming movement, we now have plenty of high-end, robust mechanical keyboards to put on our desks. Here's a quick review of the Vortex Pok3r I bought a few months ago.
The good
The maker of the Vortex Pok3r, KBT, isn't new to this business: their former model, the KBC Poker II, was very well received across the world. The Pok3r thus had some high expectations to answer for when it came out in 2014, and looking at the specs, the least we can say is that KBT tried their best:
Aluminium case
PBT keycaps
Three programmable layers
A large selection of 2*6 Cherry MX switches to choose from
Optional backlighting (RGB backlight)
Optional ANSI or ISO layout
Available in two colours: black or white
Opting for an aluminium case is perhaps the most brilliant idea here: this garantees no bending and no bouncing while you type, and a very stable, hefty keyboard on the desk. The PBT keys are also a very good choice, as they don't develop the ugly shine the ABS keys do, and the keyboard is likely to age better as a result.
KBT offers you to choose between six regular switches (Red, Blue, Brown, Clear, Green and Black) and six RGB switches for the backlit version (Red, Blue, Brown, Black, Silver and White). Hating backlit keyboards vigorously and loving tactile switches, I opted for MX Clear switches. The combination of a sturdy case, nice PBT keys and tactile switches really help in making the typing very comfortable. I also added a set of O-rings to help damper the sound a little (as I often work in open floors and my heavy typing has a tendency to garner disapproving looks from any person in a 100-meter radius).
Programming the keyboard is not as intuitive as it could be, but it doesn't really matter, as you typically only do it once. I really appreciate that I can carry around a keyboard with the exact layout I'm used to, without having to fiddle with the Windows Registry, XModmap or the OSX equivalent every time I hook it up to a new computer. It's my own, personal interface to computers that I can always rely on.
The bad
Building a high-quality keyboard costs a lot of money, and you can easily tell when you open the box: no money was left to spend on anything else… When the Poker II came with a leaflet, a branded keycaps puller and RGB modifiers, all you get with the Pok3r is the keyboard itself. It's a bit ironic that a rather costly keyboard appears to be so cheap.
Another thing I didn't like is the layer indicator. KBT had the idea that you wanted to know, at any time, what layer you were using, so they included a set of LEDs underneath the space bar to shine their little blue or purple light all the bloody time. I know nowadays a lot of people like to have an electronic rainbow inside their keyboard, but I don't, and I feel a bit ridiculous with my tiny, neon-lit nightclub for fingers.
One last thing I regret a bit with the Pok3r is the lack of USB hub. I really appreciated being able to plug a mouse directly in my Happy Hacking Keyboard Lite 2. Laptops have a tendency to go frugal with the connectors they offer, and the more that remain available to plugging external drives, the better.
An excellent purchase
All in all, the Vortex Pok3r is an excellent 60% mechanical keyboard, well worth its price (around $130). I expect it to last me at least a few years (my good old HHKB Lite 2, bought in 2001, is still in good condition after over fifteen years of heavy use, so I expect at least the same durability with the Pok3r). Just keep in mind you should add an extra $20 for a key puller and O-rings, and possibly some more if you want alternate keycaps.